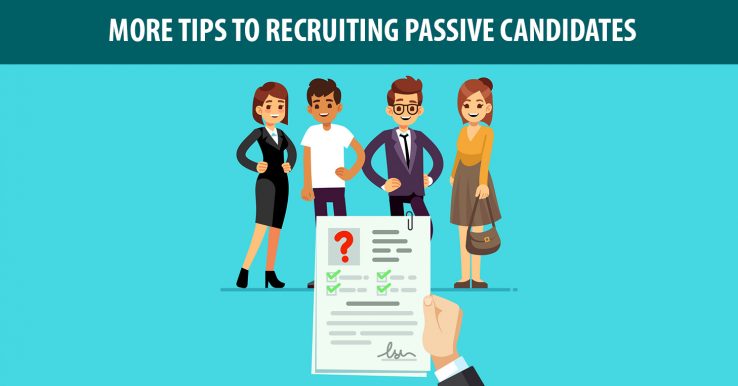 The recruiting field has evolved to accommodate the changing times. But what do you do if the individuals that are active on social networking sites don't meet your requirements. Well the alternative to that is to recruit passive candidates. You are probably wondering the same thing as I am i.e. how do you recruit individuals that aren't active users of social media; one of the best ways to locate and get introduced to candidates of calibre.
In the light of this need and the trend followed by recruiters when selecting candidates here's something that might come in handy for your recruiting needs, "More Tips to Recruiting Passive Candidates".
Given the way recruiting is done these days there, irrespective of the change in recruiting, there's one thing that remains consistent if one wishes to build a successful team then passive candidates are always desirable by most companies.
Use Social Networking Sites
Simply selecting candidates randomly via Social Media, through employee referrals and from connections, may get your foot into the door when recruiting passive candidates. But is that enough or is there a better way to source for qualified candidates which is an efficient way of performing the task? Well yes, there is, and we'll be discussing it shortly.
Need for Skilled Recruiters and /or Sourcers
When we talk about requiring skilled recruiters or sourcers we are referring to individuals possessing the skills and knowledge of sourcing. The skills and the knowledge that we speak about are having a basic knowledge and skills of Boolean Search Strings for job boards and about x-ray searching social networking sites Facebook, Twitter, LinkedIn etc. and some knowledge about programming languages can be useful to leveraging web scraping and Applicant Programming Interface (API) queries.
Use Improved Ways of Establishing Connections
With the internet at a press of a button, it is probably wise to use it as it is not only efficient but also cost effective too. Besides you have several tools that can improve the relationship with clients and connections. Some examples of tools that are efficient are Mailchimp or Nutshellmail are good for emailing in bulk, Evernote is great for exchanging and saving business cards and Snapchat is an amazing tool to send SMS' in bulk. Let's not forget the group features that most social networking sites have and Google+ circles.
Use the Right Tools
Some other tools that might be useful like Text Expander, Connectifier, Out Wit Hub, Yesware is a good tool if you wish to track and monitor your email status etc. there are several other tools that recruiters can avail the benefit of to fulfil the requirements of passive candidate selection.
These are some of the ways wherein recruiters can recruit passive candidates and that to on a personal level as these individuals respond better to personal connections in comparison to bulk messaging. This reminds me of a popular quote, you too might recall, "Time spent on hiring is time well spent." – Robert Half