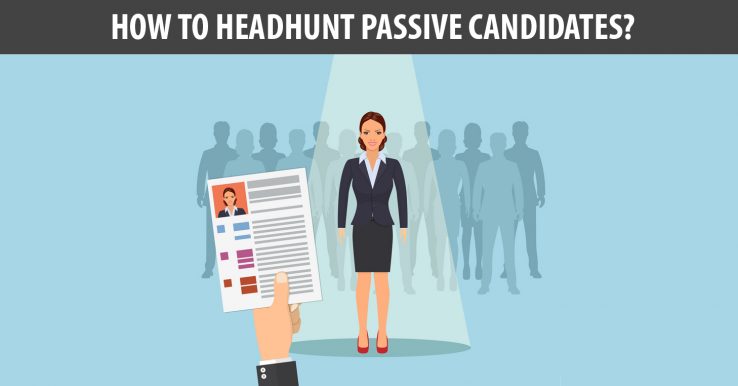 Social networking sites make the task of a Recruiter quite simple, especially since most Candidates usually have an account on one or the other popular Social Media sites. With the internet gathering important information about a potential Candidate is fairly easy. If your access to Active Candidates isn't enough, you can always fall back on those Passive Candidates.
In order to get in touch with Passive Candidates when you're usual methods fail there is yet another technique that can generate approximately similar results. This other technique that Recruiters can exploit to their advantage with the help of Social Media is Headhunting Passive Candidates. So how do you Headhunt Passive Candidates through Social Media?
A question most recruiters tend to ask? The answer is simple, if you're familiar with the Headhunting term or not that's ok too. Here's something to jog your memory, Headhunting is a proactive way of recruiting potential Candidates that are already part of an organisation but aren't usually looking for a job change. While this is done to get Active Candidates you can also use the same method to recruit Passive Candidates. Here's how…
Before you begin Talent Sourcing you need to decide on a company you want to Headhunt for instance – sales executives
Once you've done that, then you need to pick your channel for headhunting
You can begin by looking for the company name in a Job portal like Naukri, (pick one that is mostly used by companies) by searching for employee listings.
Alternatively you can also look for these individuals on other channels like LinkedIn or Facebook
You can also check if these listed individuals have their résumé on any other job sites
Once you gather the information you require, you can verify it with multiple sites and social media sites.
After verifying the information with other sites, you can get in touch with people who you find are connected with that potential candidate to cross verify it.
If you aren't able to get hold of the candidates résumé or get in touch with individuals who might know the potential candidate or the candidate send an email to their official email Id.
You are sure to get a reply from them; if not you get the satisfaction of having tried, at the very least.
And voila, you have a list of candidates that you can list out and select the ones that are right for that job profile. So simple, isn't that great? So what are you waiting for, you might as well give it a short and in the process fill positions that keep cropping up as and when they are filled. This way you would have achieved your targets and will have gained a good hiring rate. This will automatically improve your performance thus keeping your employers happy. And simultaneously build a strong talent pipeline you can count on for your recruiting needs or gain a Recruitment Certification Program to help you. Do you have any more points to add? If yes, you can mention them in our comments section and we'll be glad to add them in our next post.