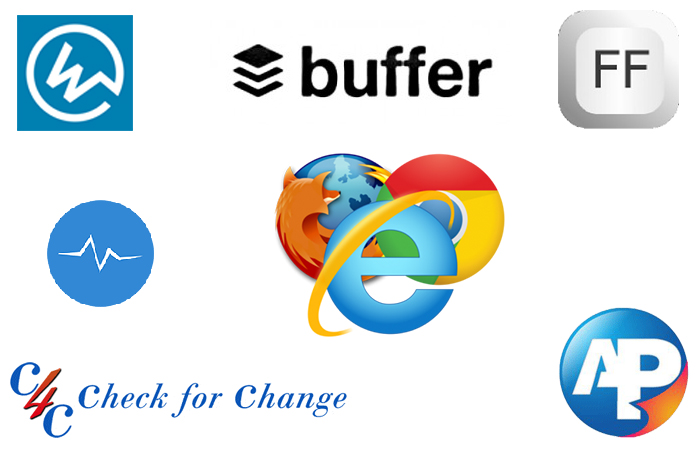 Tired of the monotonous task of searching with different keywords and trying to keep track of the ones that have already been searched? Then let's find out if there are simpler ways to do just that. For anything to be effective its common knowledge to have a strong base so let's begin with the basics i.e. the simple tools that can make all the difference to the efficiency of your work.
Know your Browser
Before we begin let's check if we are using the right browser. The popular browsers and the common ones that are used are Internet Explorer, Google Chrome and Mozilla Firefox. So which one is appropriate? Yes, you've got it! Internet Explorer apart from being popular still isn't as effective as Google Chrome and Mozilla Firefox. Here's why? Internet Explorer is not only slow it isn't Sourcing savvy nor can you have add – ons. These add – ons feature is present in both; Google Chrome, the second most popular and the third being Mozilla Firefox.
Extensions, Add – Ons and Plug – Ins
These are third party tools that can be added to your browser. These simple tools improve the functionality and assist you when Sourcing for potential Candidates. Not only are they free, they are easy to install and are often little gems that save you time and effort. These simple tools if installed; leave you more time to spare engaging in important tasks rather than in redundant ones. So what are these little tools that increase efficiency? The tools are categorized based on the purpose:
Finding Words on Any Web Page
EfTwo
This tool is for Chrome. After downloading (link to download bit.ly/eff2).It allows you to turn on highlighting for all the terms that you've searched for in the Google toolbar. Once all your search terms are highlighted by EfTwo, you can access these profiles easily for core skills, as they jump of your screen due to each term being highlighted in a different colour. Here's how it works:
To access, just type the F key twice,
A search bar will appear at the top of your browser,
Your search terms from google will already be displayed in the search bar, but you can add new ones to the list and it works on all webpages, not just Google or Bing.
HighlightAll
This is the Firefox version to highlight searched words. To download this tool here is the link bit.ly/highlight all. So how does it work?
Press the Ctrl + F function
Enter the search terms
Click "highlight-all"
And all your search terms will be highlighted
To Quickly Scan Search Results
AutoPager
This is one of the many add – ons that is available for Firefox. You can download it from bit.ly/AutoPfox. With this tool one doesn't have to worry about the next page loading as it automatically loads at the bottom, so you can continue to scroll through the results without any disruptions. It is very convenient and can be used with any search page that displays results. A piece of advice, if you're using it with LinkedIn it is preferable to "right click" on the profile that interests you and then open it in a new tab. This will enable you to go back to your search with ease.
To Quickly Post Content on Twitter & Facebook
Buffer
It enables you to quickly post any web page of content such as a job spec or blog easily into your chosen Social Network with just one click, thus the content is fresh on your Twitter account. To download it you can click bit.ly/BufferChrome. Here's how it works:
For instance if you're on LinkedIn and you find a recommended post. The common notion is you check it but if you like it then you decided to share it. In order to share it these are the steps to follow –
The Buffer extension will appear on the top right hand corner of the screen
Click the button, the Buffer account will open up and it gives you a suggested tweet that you can use or edit it
Then you add it to your Buffer and Buffer does the rest
It determines what is the most productive time to tweet it out, so that it will reach maximum number of people
Finding out who works where
WhoWorks.At
This is a great tool for In House and Agency Recruiters. This is the extension for Chrome and you can download it from here bit.ly/WhoWorks. So here is how it works? For example if you are on a company website such as Oracle. Click the WhoWorks.At icon in your browser and a menu of the first degree contacts working with that company will be displayed including the second and third degree contacts. You can now use this information to call and email suitable candidates.
To Monitor Changes in Webpages
PageMonitor
A useful Chrome extension that monitors webpages for the latest updates and changes in websites that caters to career opportunities at a company. This will let you get suitable candidates before anyone else does. You can download it from bit.ly/PageMonitor
Check4Change
This is the Firefox extension that allows you to select a part of a webpage and you are notified instantly if there are any changes in the website that you have selected a part of it. This simple tool can be downloaded from here bit.ly/Check4Change.
So let's make use of these incredible simple to use and free Add – Ons or Plug – Ins to improve our performance and be efficient with the tasks allotted to us. These amazing little gems can impact our work to a great extent in combination with the right browser. Apart from this even a combination of these tools together can reduce our work considerably simplifying your Talent Sourcing task. Apart from this you can also gain a Recruitment Certification Program to help you speed up the process.