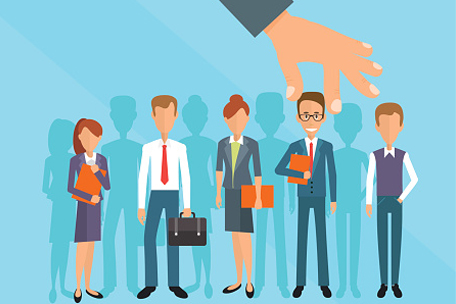 As Recruiters we are familiar with the stages of Proactive Recruitment and as far as possible we try and make sure that all the stages have been covered. But if you're a Recruiter in the process of making an exceptional hire then be sure to follow all the Proactive Recruitment stages. Although I'm sure you've probably covered all the Proactive Recruitment stages but it never hurts to be completely and absolutely sure.   In this regard let's find out if we have considered all the, "9 Stages of Proactive Recruitment" for Talent Sourcing so here goes…
Applicants Interaction Screening Stage
Many times you'll come across candidates who don't fit your specific position but have applied nonetheless. In such a scenario a quick review of their CVs might suggest that they fit your general category.  At that point you might want to include them in your candidate database instead of rejecting them altogether. More importantly you need to send automated job alerts to these candidates to get them into your Interview schedule when you won't be able to personally call them.
Phone Screening Stage
There'll be occasions where you make phone screenings to evaluate the candidate on the general aspects related to the job requirements. During your interaction you'll find that some of them meet your general criteria but not the criteria they applied for. In such a case you can keep these individuals in your proactive queue of candidates to create a pipeline of talent.
Personal Interview Screening Stage
After filtering out the candidates based on a personal interview and you've found that their skills aren't up to the mark. In that case instead of rejecting them completely you might want to keep them in your proactive queue of candidates by having an interview scheduled after 6 to 12 months. This is essential as during that period of time they would have updated their skills.
Team or Group Interview Screening Stage
When conducting a team interview you need to be paying attention to the questions that your team is posing to the candidates. These questions are usually in reference to the current and former organisations they've worked with which includes their interactions with co-workers at present and past organisations worked at as well.
Project/test/homework Stage
During the interviews conducted you are likely to find candidates who do not pass this phase. If that is the case then you might want to put then in your proactive queue which is scheduled after 6 to 12 months. That will give them time to improve their skills and get interviewed again for the position. If they have improved and are up to the mark then you can proceed with the interview and land yourself a good hire in the process.
Offer stage
Whether you like it or not chances are that you will get rejections. When that does happen you need to understand clearly the reasons for your offer being rejected. This is important because you need to know what your competitors are offering or what their reasons were to reject the offer you presented.  This will let you know if you have a way to close them, if they are the perfect fit or keep them in the proactive queue if another opportunity comes along. But remember to beware of repeat offenders as they might be wasting your time and effort.
Make the Hire
Once your management has decided to make the hire you then need to ensure that you make it all about the candidate. You can do this by alerting all your staff about the New Joinee. You can send out New Joinee emails to your staff. You can add them on to the company's social channel or group where all the members are present. You can also tag them on social channels and monitor the people that comment on these posts.  This will enable you to identify potential candidates for future positions since they know one of your employees.
On-boarding Stage
It's probably the best stage in Recruitment as you can get referrals easily provided that you make sure they are aware of how they can help the organisations recruiting efforts with referrals. This is important as these individuals will usually have family, friends and colleagues that are seeking job opportunities.
Performance Review Stage
A great way to evaluate your hires and even the perfect time to get referrals from your New Joinees but be sure to let them in on the type of candidate you're looking for. At this time even if you have some individuals in mind that you'd like to talk to from, their connections you can list them out to the staff.
To sum-up make sure you are aware of these Proactive Recruitment Stages and where all you can push to build talent pipelines that you can rely on for your next hire or for volume hiring. Most importantly be sure you have exhausted all your resources as it will improve your hiring percentage if you work efficiently. In the meantime if you're looking for a Recruitment Certification Program then your search is over you need only follow @TheSourcingPro.