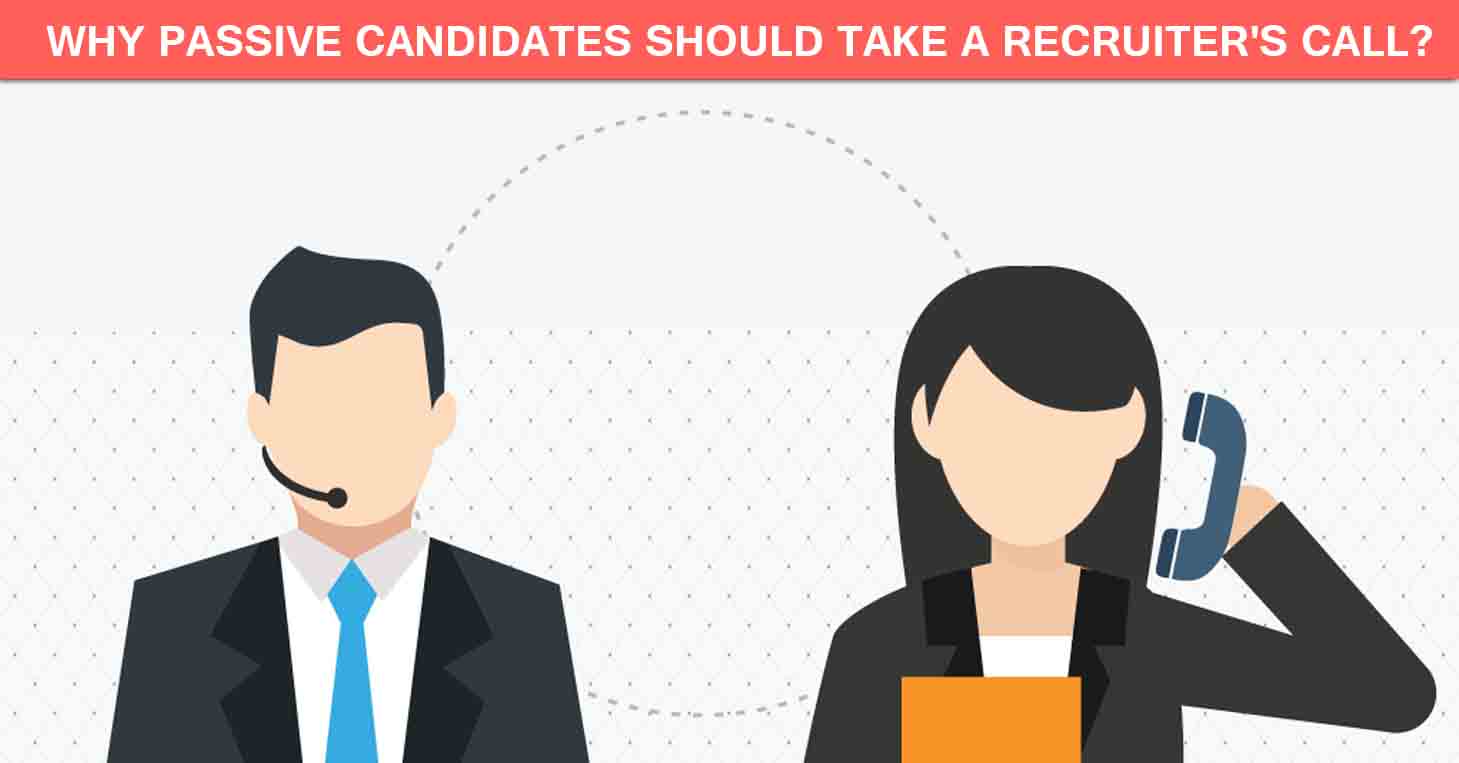 If you're a recruiter then you are probably aware of the drawbacks of the profession. As for gathering candidates, you are well aware of the situation and you know exactly what I'm talking about. When it comes to candidates than you really need to rethink the way you approach recruiters in conversations.
If you think that this doesn't apply to candidates let me give you reasons that will definitely change the way you converse with recruiters on the whole. Therefore, let's answer the question that has got all of us thinking, "Why Passive Candidates should take a Recruiter's Call".
Gather information
When a recruiter calls, don't just say no for the job opening if you aren't looking for one just yet. You never know when your friend or their friend might be interested in a job change. Hence it would do wise to gather all the necessary information about the job opening instead so that if you hear someone is seeking a job you can let them know.
Be Courteous
Besides if you aren't interested in the job opening then be courteous and let the recruiter know that you aren't interested but if your friend is searching for the same profile you'll let them know. That way you are helping them without going out of your way either.
Remember First Impressions are Important
Are you wondering how does this applies to you as a candidate then let me explain the same? When you are courteous you are likely to create an impression on the recruiter because let's face it recruiters are sometimes not the people we are least interested in when we aren't looking for a job. But how many people who aren't looking to be employed show some courtesy when recruiters call? Therefore you create an impression that will stay with the recruiter because it is common knowledge that individuals usually tend to remember painful memories more as against the good ones.
Irrespective of your current job
If you are currently employed and have received calls from potential recruiters then it is actually the perfect opportunity to gather as much information as you can if you are even slightly interested in the job profile. This is because you don't have the pressure that job hunting has and it enables you to weigh the pros and cons of the job opening and that too with a clear head. This also reduces the confusion or the fear that if you don't take this opportunity you may never get another one anytime soon.
Know who has the Leverage
If you as a candidate are content with your current position but are interested in the position the recruiter is offering then you have the leverage over the recruiting company but on the other hand if you are looking for a job change as you aren't satisfied with the current profile that kind of makes you desperate for a job change and in that case the recruiting company that the recruiter is representing.
So there you have it, do you still think that it is a waste of your precious time to entertain a potential recruiter? Well, either way, I think I've made my point, the rest is up to you to decide if you want to agree or disagree. I hope it's the latter. Any which ways everyone is entitled to his or her opinion. Therefore we have a comments section that you can jot down your opinions.