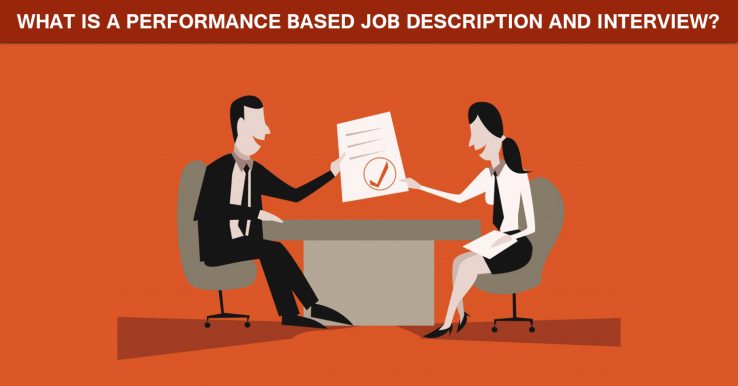 The availability of the internet has not only given us easy access to huge pools of talent but also simplified a Recruiters or Sourcers task to a great extent. With a huge database of members available to us through Social Media, it becomes essential to create effective job descriptions and Interviews.
In order to attract the right candidates, one need's to have solid job specs and interviews, which aren't easy to come by. Therefore implementing performance-based job descriptions and interviews in your recruiting and sourcing strategy is a must. But the real question that needs answering is what is a performance-based job description and interview? With that being said, let's find out more about the new developments in the recruitment industry.
Performance-Based Job Description
A performance-based job description is similar to a general job description, the only difference being that it is more of a person selection type using past top performers personality traits as a basis. In a performance-based job description, you create it as if having a personality with traits. In these descriptions, you clearly state what the work involves, the kind of personality and the required traits the applicant should have to be selected.  A performance-based job description should…
Have a personality with the required traits
Give a brief description of the company with the vacancy
Clearly, state the work timings along with the location
Describe in brief about the job responsibilities
Have language that is crisp and to the point
Ask for educational qualifications
Have details as to whether it's a full – time or part-time job
Give package details and if applicable mention negotiated
Performance-Based Interview
Just as a general interview is conducted so also is a performance-based interview. Such interviews comprise of questions that don't strike you to ask. A performance-based Interview is an improvised way of conducting interviews where you refer to past top performers interviews as a basis of selection. Such interviews are conducted with the motive of segregating candidates that meet the criteria from the ones that don't. In order to conduct a performance-based interview you need to ask candidates practical questions. Asking such questions will give you a clear idea about the capabilities of the candidates that approach you.  Some questions you can begin with are…
Ask the candidate to give you a brief overview of what he/she has done which is comparable
Make sure you ask them what they are looking for in the new job and Why?
Ask the applicant how he/she would practically solve a realistic goal?
Probe the question about resolving a realistic goal further to get an understanding of the process they use
Give them a chance to ask questions further if any
What are some of the big performance objectives at your previous job?
Well now that you have a clear idea about performance-based job description and interview, you can implement it in your Recruiting and Sourcing strategy. So what are you waiting for, you might as well go ahead and utilize these inputs and watch your candidate selection rate improve drastically. What's your recruiting and sourcing strategy?