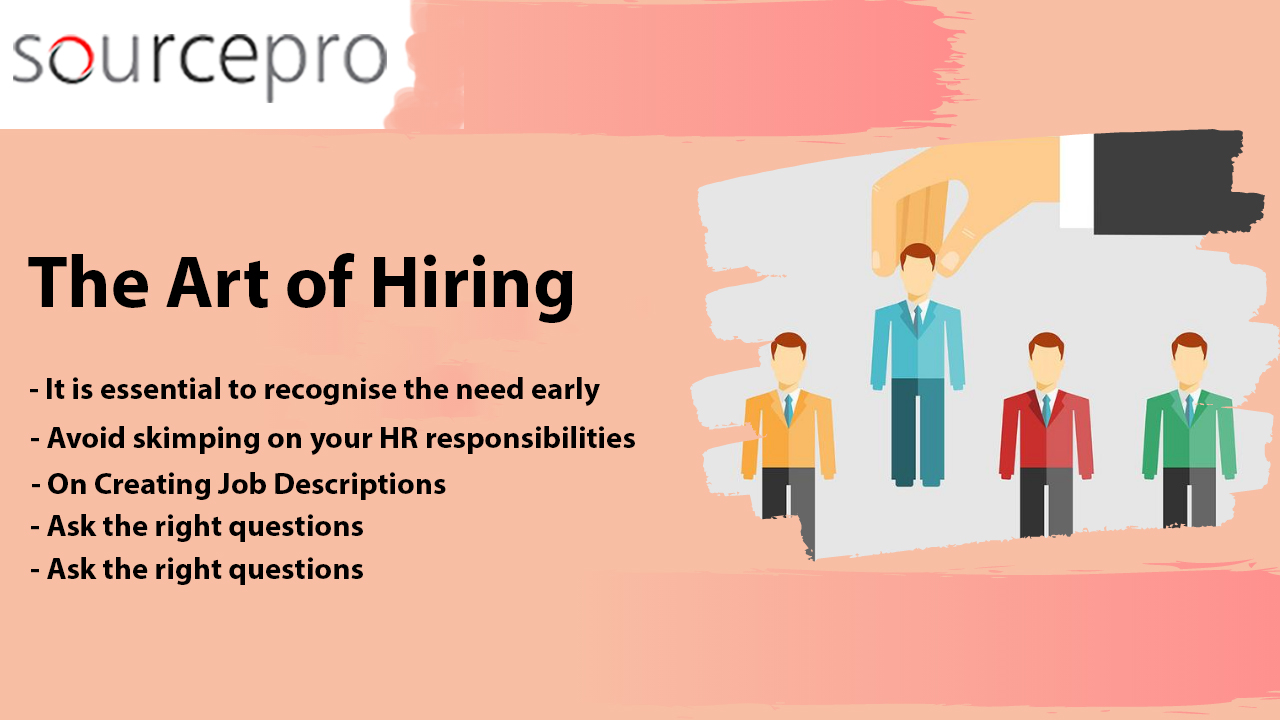 Like every other field out there even the recruitment field requires some amount of creativity and art. Because let's face it even hiring is an Art. And it's obvious that those with the art of hiring are bound to have an effect on the business altogether.
Hiring like most of you are aware, considering that you have been in the field for quite some time, is an art. If not then here's something for you to consider and implement in your recruiting strategy, if you haven't already.
It is essential to recognise the need early
In order to recognise the need early, you need to realise that you need to get new people in the first place, especially since one gets comfortable with the people they work with and at times prefer to work with them nevertheless. As an employer you'll always have reasons to put of expanding a payroll. As a result they tend to make last minute hires which may not be effective and might in turn affect the growth of the business and its future prospects.
Avoid skimping on your HR responsibilities
Most business owners tend to focus more on other aspects of the business, and usually pay less attention on the HR department, which isn't ok. For any organisation to be a success the working staffs is absolutely essential. This is an important aspect because if the base of the company isn't good, it limits the chances of the business' growth. Therefore, it is important to pay more attention to the HR responsibilities as well.
On Creating Job Descriptions
When creating job descriptions, it is important to make sure that the content displayed is crisp, to the point, specific and is engaging. Apart from that it should clearly mention the parameters such as Full Time or Part Time, be attractive so that you attract the right kind of candidates. If the description meets all of these criteria you are sure to receive applicants that meet your requirements.
Ask the right questions
Interviews are a great way to find out more about the candidate and their abilities. But the only way to ensure that you have the right candidate is to start by asking the right questions. The questions that you pose before them help you to clearly determine whether they are a right fit. Some questions that you can begin with are…
Why should my company hire you?
Taking into account the career path chosen, do you think there are things you would have done differently given a second chance?
If you get this job, enjoy your work, get along with your colleagues well enough and were paid your asking salary, how much money would you get paid from another firm if they hired you?
Do you have any questions for me?
Try and recollect good interview questions that you enjoyed and incorporate them into your interview strategy. If you follow these aspects then you will definitely be able to attract the right candidates. Besides if you get practical answers to the above mentioned interview questions then these are the ones you should hire as they tend to be the right candidates.
Well there you have it, all the information you require to make a good hire. Aside from this if after implementing them you get the right candidate then you can safely say that you have mastered the art of hiring. Do you have any pointers to add?