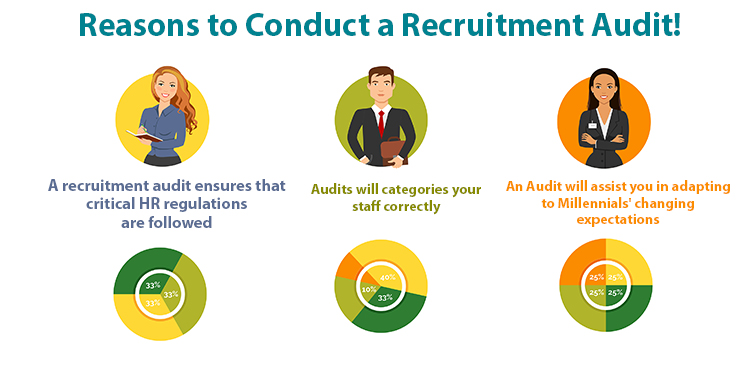 Most businesses are aware with the concept of an audit, particularly when it comes to financial matters. An audit of your human resources policies and practices, on the other hand, could be just as beneficial. Hiring Audit services will not only assist you in assessing the crucial components for ensuring a financially secure future, but it will also provide insight into the qualitative features that influence your company's culture. Here are some benefits of auditing the human resource department-
A recruitment audit ensures that critical HR regulations are followed-
It's vital to stay up to date on the newest compliance and regulatory changes. An audit can help you get rid of the uncertainty when it comes to benefit packages. One of the most difficult components of human resources is ensuring that your employee benefits package is lawful and competitive. An Audit will assist you in determining which healthcare benefits package is best for your company and how to streamline your annual renewal and enrollment process.
Using recruitment audit services may ensure that you're not just adjusting to the employment law changes that are influencing today's workplace, but also that you're on top of broader business developments that may affect your company. An audit ensures that your employees are being adequately compensated. As an employer, you must understand what constitutes fair pay for your employees and how to communicate this information to them. An Audit might reveal disparities or anomalies in both areas and assist with resolving them.
Audits will categories your staff correctly-
In recent years, as the popularity of freelance work and independent contractors has grown, so has the confusion over how to classify employees. An audit can assist you in determining how to classify an employee or what type of hire you should make. Employee turnover can be analyzed and reduced with the use of an Audit. A recruitment audit can provide insights to assist you reduce employee turnover, whether you want to gather insights through an effective exit interview or measures to enhance morale and improve your business culture.
An Audit can help you optimise the structure of your business and update job descriptions. Using Audit services may help you assess and improve the people, processes, and procedures you employ to manage your firm, whether you're just starting out or experiencing significant expansion. For firms that are just getting started, an employee handbook is a must-have. An Audit can help you re-examine job descriptions in the same manner that you analyse finances and budgets as your firm develops and evolves.
An Audit will assist you in adapting to Millennials' changing expectations–
Employers must be prepared as Millennials continue to make up a higher part of today's workforce. An Audit can assist you make sure you're ready for the ways in which Millennials will affect your business. An Audit can aid in the detection and prevention of harassment. Workplace harassment has become a heated topic at firms around the country as a result of the #MeToo movement's debate. Audit services assist businesses in identifying possible harassment issues as well as measures to maintain a safe working environment.