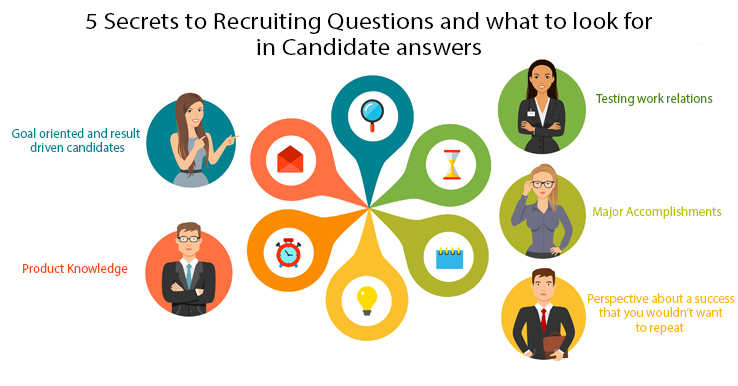 Spotting the right fit is like finding a needle in a haystack. You can search all you want but without the right tools and techniques you are likely to lose out on hard to catch talent. Just like every position has certain skills and techniques that are required so also is the same with hiring. If finding the right fit is difficult then these 5 secrets to recruiting questions and what to look for in candidate answers can help you.
Goal oriented and result driven candidates
If you're looking for a candidate who is goal oriented and result driven in their work then there are certain questions that you can ask to see if these aspects are present within the interviewed individual.
Tell me about a time when you set difficult goals
To achieve them, what did you do?
Walk me though the process and purpose used
Tip: If you get a great answer then it shows that the candidate understands what difficult goals are. It will tell you that they have also put in effort in attaining the goals while maintain high standards of work quality.
Product Knowledge
If you're looking for a Marketing and Sales candidate or simply testing the candidate for product knowledge then a simple question like what does our company do, might suffice. But it longs creativity and lacks the ability to ask questions on the fly. So asking a question like –
Pitch the (company name or product) to me like as if I were buying your product and service offered?
Tip: The answer would come naturally if the candidate is interviewing for a marketing and sales role but won't be easy for a candidate interviewing for an internal role. That doesn't matter as you aren't testing their delivery but it'll be interesting to learn how each candidate responds to it.
Testing work relations
If you're eager to learn about the work relationships the candidate shared previously, to see if they'll fit into your staff and are wondering how you'll find out. Then there is a way to approach this aspect by framing a question that gives you the answers you're looking for.
Tell me about the relationships you've had with your colleagues
How will you describe the best ones? The worst ones
Tip: Most candidates are hesitant to bad mouth their co-workers and bosses so it will be interesting to see how these candidates tackle such questions. It will tell you more about how they interact with fellow workers and what kinds of interactions they choose to have.
Major Accomplishments
If you're debating about whether or not to hire a particular individual then asking questions about their major accomplishments will generally be the deal breaker.
To date which task or project do you consider being the most significant career accomplishments?
Walk me through the entire process –

How did you manage it?
How did you measure its success?
What were the biggest mistakes you made?
Tip: If you get a great answer it will reflect confidence in their work and professional choices and will be humble and give credit to others.
Perspective about a success that you wouldn't want to repeat
A response to a question that caters to this will give you an idea into how they view work they didn't find interesting. This is something everyone is bound to encounter in their professional career at some point in time.
What task have you done that you were successful in professionally?
Was the experience one you'd want to repeat?
Tip: When you talk about extreme experiences it gets people emotional which can be quite revealing. You get to know who you're working with.
The candidates you interview that showcase the aspects mentioned are likely to be the best fit. These are the ones that will prove to be an asset to your organisation and who will definitely impact its growth prospects. Now that you know the secrets of the trade, implement them in to your strategy and reap the benefits of making a smart hire. Have anything more to add, do leave your views about the same in the comment section.